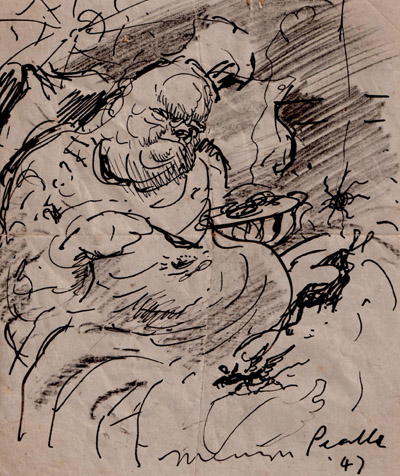 A newly discovered re-surfaced (!) sketch by Mervyn Peake came up for sale this weekend in an exhibition at "The First Tuesday Society" gallery in Hackney to mark the centenery of the author's birth. The pen and ink sketch, sent as a gift in a letter to friend of Mervyn Peake, is of "Abiatha Swelter, the Chief Chef of Gormenghast", a charcter in Peake's "Titus Groan" saga. The sketch was part of a vast collection offered for sale by Peake collector and rare book dealer Mike Kemp.
I've been a Peake fan for 20 years and have helped out on the Peake website on and off for 10 years and I had never heard of this sketch, but Peake biographer and scholar Peter Winnington informs me that it's been in Peake Studies before. Which goes to show that a 20 year obsession only gives you only a glimmer of knowledge of such a prolific talent.
So Peter… did Peake ever draw a detailed picture of Gormenghast itself? That would really be news.
An excerpt from "Titus Groan": Swelter in the great kitchen.