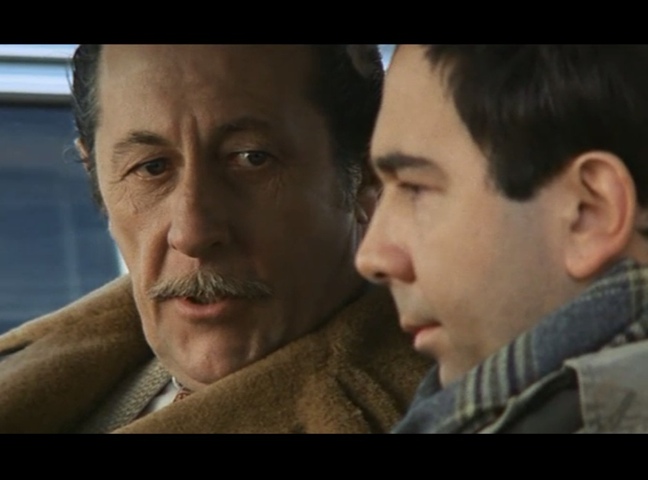 This is a momentous occassion for me. My all time favourite film Tandem, directed by Patrice Leconte in 1987, has been released on DVD for the first time with English subtitles in "The Essential Patrice Leconte" boxset, part of an "Auteur" series, released in Australia by leading distributer Hopscotch Films.
Patrice Leconte is best known for "The Hairdressers Husband" (Le Mari de la coiffeuse, 1990) and "The Man on the Train" (L'Homme Du Train, 2002). Tandem was his first serious film following an early career making "Carry On" style films based on French comic strips. I'm a huge fan of Patrice Leconte and have always been frustrated that so few of his films get released in the UK on DVD with subtitles. A few years ago on a trip to Paris I picked up a copy of Tandem, thinking it might be worth watching even though I wouldn't be able to understand the dialogue. To my amazement, what should have been a frustrating 90mins turned out to be the movie experience of my life. I immediately fell in love with the characters and understood the plot even without the actual spoken words.
Tandem is a road movie and buddy movie in one and is in turns funny and movingly tragic. Through the eyes of the childlike Rivetot, the film follows the comic decline and inevitable breakdown of his boss, friend and radio star Michel Mortez. Michel's fall also leads to a turn for the worse in Rivetot's life. As the tagline on the 1987 trailer stated: "On a tandem, when one falls… both fall".
Storyline from the DVD liner notes:
Michel Mortez (Jean Rochefort: Ridicule) is an aging radio personality travelling around France to compere a game he created some 25 years earlier. His sidekick producer/assistant/chauffeur Rivetot (Gerard Jugnot) always goes along for the ride and is the only one who really knows what lies under Mortez's playful bravado. When Rivetot hears that the programme is to be axed by the managers, he delays as long as possible having to announce it to Mortez. Tandem is an offbeat and bittersweet comedy with surprising twists and turns.
Here's a brief clip – no subs of course

The film explores one of Patrice Leconte's favourite themes: the profundity of platonic relationships in the absence of conventional love. In Tandem the two men are prevented from forming relationships by their life on the road and only have each other for support. They have formed a bond through their years of work together, and their bickering are caring for each other forms a marriage of sorts. In essence, Rivetot and Michel would be fulfilled, if they could realise that they need each other.
Leconte explores this theme over the course of several films such as: "Parfum D'Yvonne", "Mon Meilleur Ami", "L'Homme Du Train" and to some extent "Tango", a road movie about male manners and the hypocrisy of chauvinistic attitudes to women. Leconte is careful to state that the issue at hand is not sexual, although he often leaves the issue of homosexuality open. In Tandem for instance, although Michel Mortez declines when propositioned by the aged hotel night-watchman, he does seem resigned and deflated at Rivetot's rejection of his offer to dance, and seems resigned when Rivetot doesn't engage in conversation about their relationship, which he describes as: "an affaire drole… an affaire bizarre". In Parfum D'Yvonne the subtext of same sex love is more clearly stated, but still the actual relationship between the two male protagonists is platonic and ambiguous. On the surface, the film appears to centre on the story of an affair between a young man, named Victor who is avoiding being drafted into the Algerian war by posing as a Russian Count, and the eponymous Yvonne, who is an actress spending her time with her older, gay friend Rene. Although following the conventional love story, the film also flashes forward to later events where Victor is seen stalking Rene as he drowns his sorrows after bidding fairwell to a young lover, a sailor on leave. Victor narrates the scene: "lovers are like criminals, they always return to the scene of the crime". We are left to wonder who the "lovers" actually were, Victor and Y'vonne or Victor and Rene?
After several years of watching Tandem on DVD I had my first opportunity to see a rare print of Tandem with subtitles at a Patrice Leconte Season at the Lumier in Kensington. It was thrilling to discover the actual dialogue, though it did little to diminish or improve upon my understanding of the film, but did help to clear up several mysteries – such as the last line, which I'd never been able to translate (when I say "I" I mean my missus, who is fluent in French).
My fascination for the film has often lead me to Google: "Tandem Patrice Leconte" in quiet moments at work over the years, and a month ago I was rewarded for this habit when I came across a 2 volume Patrice Leconte box set which featured Tandem, newly released in Australia. I never knew he was so big down under! A cultured lot, those Australians. I admire them all the more.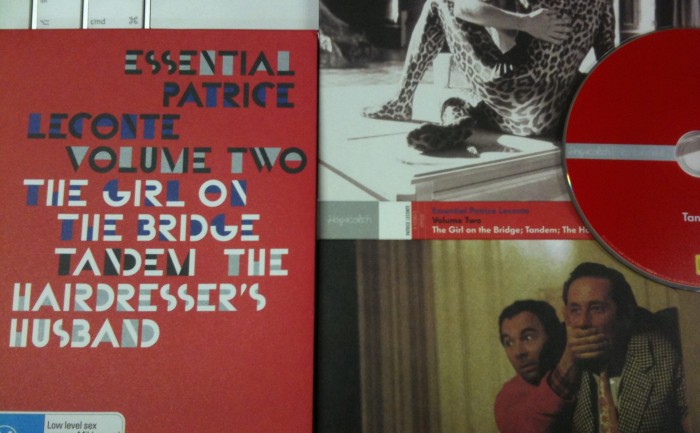 The most affordable copy I could find was actually in the US. It arrived today.
Thank you so much Hopscotch Entertainment.
So happy.