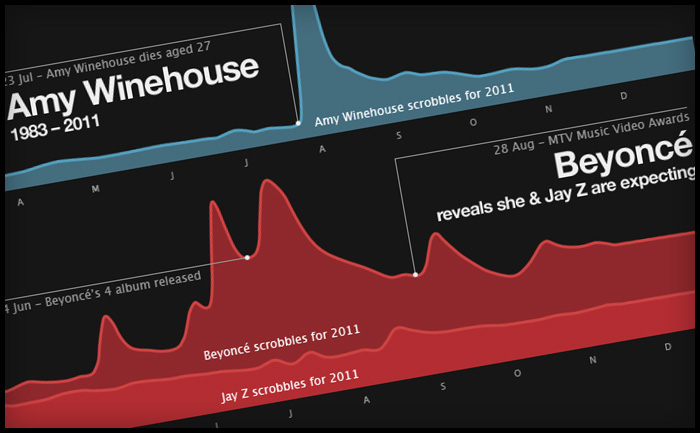 Every year at this time, most music sites give you a run down on the best acts of the year. Generally, sites start rolling out "Best of" features in December, however at Last.fm we decided to wait until January so that we can show a complete year's worth of data. This year we've also added a datavis feature, which shows key Last.fm stats, including the music news events of the year that made a noticeable change in an artist's listening levels – or scrobbles.
Making of
To create this, we polled our colleagues across the CBS Interactive group for what they felt were the key music events of the year. I then used our internal trends tool to see if the artists featured in these events had any corresponding spikes in their listening data, based on actual total daily scrobbles. To my surprise, most of the shortlisted news events had encouraged listening, showing clear spikes. The only HUGE event that hadn't really had any effect on listening was David Hasselhoff's birthday. The Hoff is the Last.fm mascot and his birthday is always big news here in Old Street, but sadly not with the wider world. However he did have some huge spikes in 2011, which a quick check on Wikipedia proved to be related to a come back tour in Germany and Austria, who also have great taste in idols.
A tribute to Steve Jobs
The Steve Jobs tribute was the last one to go in. I wanted to do a tribute to Steve (mostly because I am addicted to my iPhone and iPad), but mostly due to his huge impact on the world of music. The trouble is he's not an actual artist (or so I thought), so he doesn't have listeners to create a graph from. Instead, I used our site statistics to show how Apple devices are represented in Last.fm visitor levels. It was only later that I learned Steve Job DOES have an artist page, as many of his keynote speeches and addresses have been shared as audio files and podcasts, which do actually "scrobble" … and yes, there was a spike after his death in October.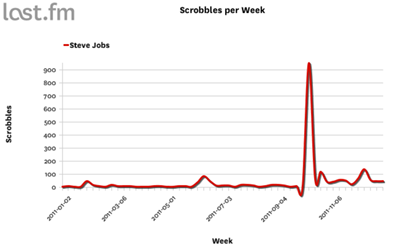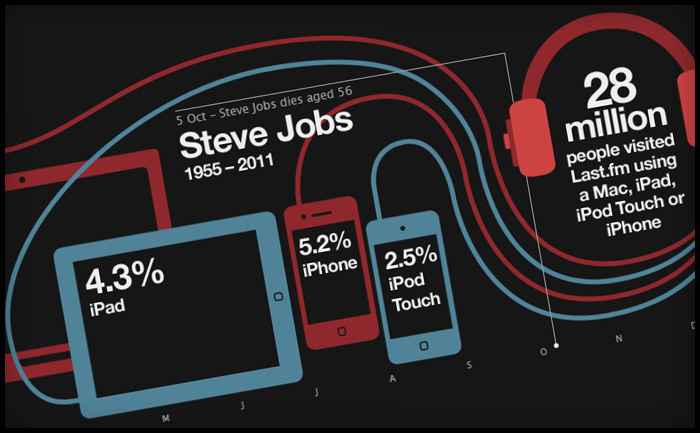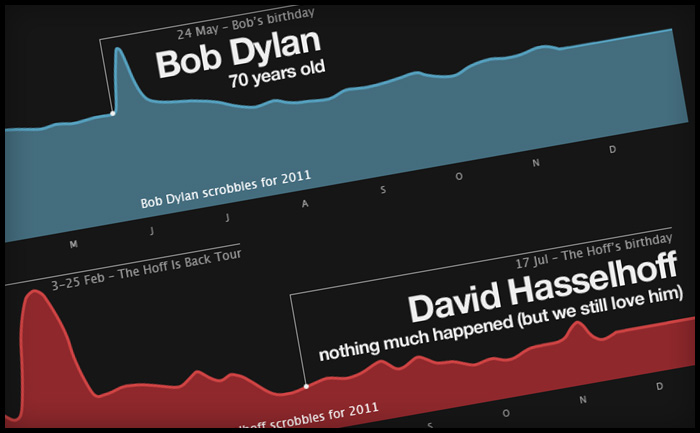 Translation issues in web design
Last.fm is a global company and provides translations in 10 languages. Translation is usually added into the html, but as the datavis was a graphic, yours truly had to edit the translations by hand, which was fun, as not all the character sets would work in the cut of Helvetica Neue I had. Also, sentence length in translations can be a huge layout issue, especially if tabs are used. In this case the annotation of the charts took up a lot of room and needed to be considered early on. Contrary to popular belief German wasn't the most problematic in terms of sentence length; Russian caused the most formatting problems, followed closely by Polish.